Part Two (NEW 2012)
Non-Invasive Acoustic Guitar pickups
A New Beginning
The recording (the video) needs some background as it uses several techniques and equipment that you will hear. First off we recorded what you will hear directly from the stereo output jacks of the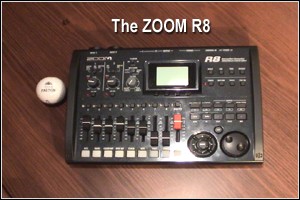 GSP1101, going directly into ZOOM's new R8 8 track recorder's inputs. No mixer or any other effects or EQ other than what the GSP1101 produces. The track uses slight chorus (no detune) for spatiality, some delay and a bit of reverb as well as 3 symbiotic EQS. Very Subtle and very high quality effects. We recorded the tracks at 16/48, a bit better than CD quality though the ZOOM will do a full 24/48. The sound quality of this tiny recorder is incredible and its absolutely the easiest to use multi-tracker ever produced. We'll do a complete review of this little piece of magic soon. But the star of the show is the GSP1101 which could not reach the stellar heights with any pickup but the Angel. Again no pick noise which allow one to play well forward of the bridge for the most acoustic sound. And what used to take many hours to program with the 2120 Artist, takes a few minutes only (with some tips from us of course)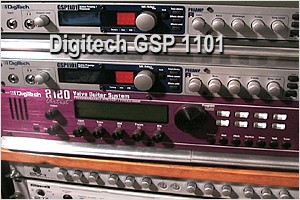 In the video I play close to the bridge so you can hear the difference from when I move closer to the pickup and then finally right on top of it and even forward of it. When playing in the first part (muted fingerpicking - with palm muting the bass strings near the bridge), the richness of the bass notes cancel out the usual quack which we show at times throughout the entire video. But when you move up the soundboard past the center of the soundhole, the magic really is dramatic. I start off playing a few riffs and other chord patterns moving from near the bridge and then to the sweet spot with any acoustic pickup which is nearly right over the pickup and about three minutes into the video I use a very simple adjustment to the GSP1101 for lead, and then almost immediately add a bass line. The original track of the guitar is panned as the lead starts to the left a bit and left there for the rest of the piece. I leave it there so you can hear the dramatic difference a stereo signal can produce when panned evenly to both extremes (which has the effect of centering the sonic picture) when compared to a mono or left or right panned solo performance. When you add lead or bass it is essential to make room in the 180 degree spectrum for each instrument (guitar fingerpicked rhythm panned left, bass centered, and lead panned right. The left and right panning need not be more than 30-50% either left or right in such an ensemble. If more instruments are added they can be panned fully or less either way to find their "spot". Lead vocals are usually best when centered with harmonies panned slight to either side. The bass is almost always centered unless the bass is playing a lead or their are several bass parts (i.e. some melodic).
The Digitech unit has a very simple interface and extraordinarily intuitive more in-depth setting. These we will share the specifics of with you very soon. On the front panel there are many knobs which you can see (by the way there are two GSPs in the photo - along with my 2120 - as I loved it (GSP) so much I wanted another for travel). One of the buttons allows you to increase the levels of effects you use to get that near acoustic sound and increase it for leads. You don't even need to change patches to get glorious highs for silky leads with lots of sustain while retaining the precise sound of the original less effected main track guitar. Frankly I find the lead sound to equal or better those of my Strats and Pauls on many performances, and you can even go full distortion, overdrive, or grunge if you want, as long as you are using the Angel. No other soundhole pick has this strong dual personality and capability (both exceptional acoustic beauty and powerful soaring electric lead potential). The signal is so pure that you can just about do anything with it you want and for many, an acoustic guitar using the Angel will do all they need regardless of venue or style. This update was put together pretty quickly and the video is a one take wonder (all three parts) which is all I had time for. I decided not to narrate during this first video as I wanted the readers to focus on the right hand position as it relates to varying distance from bridge and the sound produced at various positions. Reason also for the rush is Larry DiMarzio wanted a video for the NAMM show which is starting today (Jan 19, 2012) and he and DiMarzio's Pickup Guru, Steve Blucher have been so helpful and generous in this game changing journey, that it was the least I could do. We hope you enjoy the possibilities you hear in the video. These pieces of equipment, plus a good stereo PA really will change the level of success of anyone using them. Of course you still have to play well but the combo of the Angel and the GSP1101 will absolutely stun your audience and are every bit as useful in the studio as well. Please keep in mind the importance of STEREO sound systems if you really wanted to grab the ears and hearts of an audience. The response to the added spatiality of stereo is really stunning. Below is a link to the video again in case you missed it at the top of the page. There will be much more to come very soon on this threesome.
And finally the pickup is very easy to install and by far the easiest to plug in to the end pin jack assembly after it is in place. And one last suggestion - you don't need to overtighten the clamps to the soundhole on this pickup - in fact just snug it enough to keep it in place using a small phillips screw driver (computer tool size) and turning the tool with just thumb and forefinger. The lighter the clamp pressure the even more acoustic the pickup sounds. The clamp flanges have rubber on both sides so they will not mar the finish of any guitar and they hold really well with very little pressure. There will be a lot more videos using this pickup with a lot of different guitars very soon. - Doug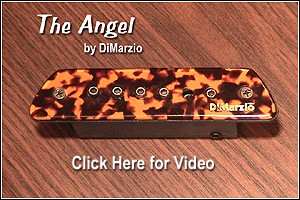 Part One
Non-Invasive Pickups
Music has surprisingly little effect on the masses if they can't hear it. For over forty years I was personally challenged as a performer to get my sound, especially my acoustic guitars, amplified in a way that was both pleasing acoustically and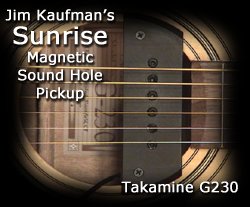 robust enough to fill even large halls without feed back. After thousands of hours of experimentation, I was fortunate enough to run into the first release of Takamine guitars. Down the street from a Burbank studio I was recording in circa 1978 was a music store. I went in for strings and fell into a Takamine F360. Skeptical at first, as I was a Martin, Guild and Gibson addict, I plugged the oriental sucker in and it blew me away. I hooked it up to a fairly large PA system and using an old analog effects box, I suddenly was able to fill the room with sound that was as close to acoustic as I had ever heard without a mic. And there was no feedback. I could drive that guitar very hard and still keep the sound under control. For me, Takamine remains the benchmark for transducer stage sound. I bought a dozen of them right then and there and retired the pretties.
Since then I have worked with B-Band and several other great pickup makers and have found true value in most all of them for live performances using your favorite acoustic. However, there always are certain limitations and trade-offs with under the saddle (UST) and contact soundboard transducers. The UST, if installed and balanced properly (we'll get into that as well later), can produce beautiful sound but never quite acoustic and the contact pickups, while more acoustic sounding, will feed back if driven very aggressively. They also tend to sound a little thin. (There is also a caveat here, as we will explore later). The B-Band UST is capable of very rich tone but still the near acoustic sound is limited by feedback as well at really high volumes and there is the issue of drilling holes in your guitar as with all UST's or gluing most soundboard transducers to the under side of the saddle or sound board (more on that as well).
Hence you have the reasoning behind this first demonstration of what I consider the potential, so often discounted, of magnetic sound hole pickups and acoustic guitars. Is it perfectly acoustic. Of course not. Is it as acoustic as UST's or soundboard transducers. Well, we'll let you be the judge. For this test we wanted to debunk a number of things simultaneously, as there is so much "opinion" out there, based mostly on the limited experience of less than experienced users, that in almost any category, one must be wary of naysayers.
Naysay #1 is the much too often expressed opinion that it takes an expensive guitar to achieve professional results. Number two is that magnetic pickups simply will only sound like electric guitars. Naysay # 3, and perhaps the most annoying, is that tweaking equipment will do little to make the first two opinions anything but valid.
So before you watch and listen to the following videos and audios, let's first look at the components of this first test. The guitar used is a standard acoustic $199 Takamine G230 Mini-Jumbo or Grand Auditorium. This bottom of the line guitar is no longer in the Tak catalog but is still available. I picked this one up at a Guitar Center sale a couple of weeks ago (early March 2004) just for this test. It is not an acoustic electric. Looks pretty nice and has a bit of real wood in it but mostly NATO. A very good neck which needed only a tweak or two to the truss rod after I shaved the saddle a bit. Low action and very good intonation. $199 - out the door! The pickup, on the other hand, is a technical marvel (or at least a perfectionist's extrapolation on an old theme). Though the Jim Kaufman Sunrise magnetic sound hole pickup has been around for quite a few years and is used by an impressively huge number of top players (see the list at Jim's site - www.sunrisepickups.com ), I was frankly more impressed with the sound I was able to achieve with it than I had been when listening to others using it. But I initially heard the potential and I felt certain that with some dedicated tweaking and more creative effects use, this tool really could pull it off.
Now Jim is adamant about using a good preamp with his pickups and has several good ones he manufactures. They range from the frugal to a full blown audiophile tube rig. However I already had a great tube preamp, the Digitech 2120 Artist Valve Guitar System with the effects I knew were needed already built in. This unit is no longer in production but there are similar units out there that will do what is needed. The pickup, (I choose the long wire version which has a 1/4" jack at the end of a 24" wire) as you can see in the video, clamps in the sound hole with the wire hanging out. Now you can either Velcro the wire to the back of the instrument if you are worried about snagging the wire or you can use Jim's internal kit to mount it or you can run it out of the end pin hole. He makes complete install kit versions with end-pin jacks as well, but I wanted to be able to change guitars quickly using the same pickup so I used Velcro and a strain relief clip that fits in my back pocket. I used a 20 foot Monster (ILink 500) cable to attach the pickup jack to the Digitech. From the Digitech stereo outs to the mixer and mixer line outs to recorder (I usually mix/synch the video and sound later).
Everything mentioned above is straight forward. The real challenge is the proper EQ settings (at which the Artist is prolific) as well as the effects. In order to give an electric signal space similar to that characteristic of a miked acoustic guitar, you need to do several things. First cut as much midrange (180-800Hz) as is possible (the Artist, again, has several EQ sections which work symbiotically with one another to give one a lot of flexibility), enhance the bottom, especially the 80Hz spectrum, and leave the highs flat. I then subtly added a fairly sophisticated Space chorus (less detune, more movement) to simulate the various parts/areas of an acoustic guitar that produce/project sound at slightly different moments in time. Then the analog delay and a bit of Quad reverb (again to get signal attack at slightly different times). The mixer itself uses a TCElectronics Multi effects unit in the effects loop so a little extra depth and space was gained there as well. The mixer EQ was set flat.
Now before I review a couple of other subtle but important tips to getting this kind of sound out of this extremely high quality, hand wound and hand assembled (by Jim personally - the perfectionist he is) pickup, lets look at the videos and audios. Remember the WMV are for Windows users and the MPG's are for Mac folk. The MP3s are for all. The first (PT1) is the Tak with the capo on the 6th fret (as always, you figure out what key I am actually playing in - this is good for you - See Guitar Basics Page if you get lost). The second clip (PT2) has the capo on the first fret. You can see this for yourself in the video but, though I like to make things as simple as possible to follow, I can't emphasize enough the importance of learning to think with your capo. Also keep in mind what you are about to hear in the videos is mixed/compressed to mono. The MP3s are compressed stereo so you will get a bit more spatial quality with the latter. Nonetheless, you can rest assured that what you are about to hear is greatly enhanced if running into good robust sound reinforcement. The sound of this pickup, set up as illustrated above, through a professional sound system, is truly dramatic, no matter how big the venue or how big the mix you have to punch through or blend with.
And now as promised above we will explore a little more strategically what one might find useful in optimizing the Sunrise. And much of what follows applies as well to all pickup system to one degree or another. Before we start, however, it is import to make note of the fact that we are not trying to sell anybody on a specific product. I have great respect for nearly all manufacturers. Takamine pays me nothing, though they do send me instruments for evaluation at times, as do many others. I own quite a few Taks, and more than quite a few of other brands as well. I am driven to singing their praises primarily for the fact that too many would-be players have a real "elitist" attitude about musical instruments. This is extremely counterproductive to what our goal is here and that is to inspire and empower those, who have a real shot at creating some truly great music, to begin to do so now and stop listening to all the reasons you may hear why you can't. Just the same, the fact that you don't need an expensive guitar to blow an audience's mind does not lessen the value of the myriad of truly great instruments being built today. There has never been a time when so many great builders, large and small, existed, and though, in my opinion, a high end Takamine makes no apologies to any instrument for the stage, the sheer beauty and craftsmanship shown by large and small builders alike contribute immensely to the beauty and sound of our planet. We live in a wonderful time indeed and I am impressed daily by the works of some truly great luthiers.
We will show you a lot of these beauties (some pretty pricey) over the coming months and in the next week or so a number of representatives in our Acoustic Guitar section. The same philosophy applies to the electronics end of this industry. There are many dozens of fine products to enhance the sound of acoustic guitars. With each and every one of these pickup and enhancement devices, manufacturers have put their heart and soul into their designs and every one, given the proper attention to use and installation detail can reproduce the acoustic sound unlike ever before. I reject the terms best, greatest and all other absolutist mumblings. We at Fingerpick will show you every possibility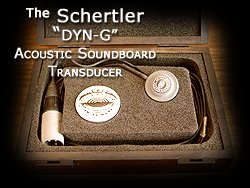 we can get our hands on, record them, be it guitar or pickup or preamp, in their best possible light and let you decide which fits your needs and your budget.
Jim Kaufman's Sunrise pickup is incredible. It is massively built like a good power amp. There is no other word for it than incredible except perhaps Functional. DeArmound, Bill Lawrence, Fishman, Dean Markley and many others have helped lay the groundwork in the acoustic magnetic arena and are to be applauded. There are also rapid advances in soundboard tranducers from folks like PUTW, K&K, and most notably, Schertler www.schertler.com, (the Dyn-G Series which we have tested and recorded extensively and will share the remarkable results with you soon further down this page) that are beginning to convince me that these kinds of near microphone quality pickups that install instantly and non-invasively, may work dramatically well even for the big stage, especially when paired up with the prowess of the Sunrise. However, the simple fact is that Jim Kaufman only makes about a thousand Sunrise pickups per year. Only a small percentage of players will ever get one. (Elderly, www.elderly.com , has them as does Shoreline Acoustic www.shorelinemusic.com ). Now Jim Kaufman has no interest in out-sourcing his production in order to increase it. He loves what he does and as mentioned before, like a fine watch maker (when there were still such things), Jim is a pain-in-the-butt perfectionist, very much reminiscent of many great luthiers I know. For that dedication, I am truly grateful. He also likes fast cars as much as I do (his Viper rocks). I have 3 Sunrises and they should last me the rest of my life. However I use many other pickups as well and, needless to say, still find a good studio quality condenser or dynamic hard to beat for recording. The issue in this section however is really about amplifying the acoustic guitar for maximum public performance. That is the theme and that is what we will continue to explore. Sure we will talk about electric guitar pickups from time to time but the amplification of the acoustic guitar is and has always been the ultimate challenge.
There are a few other things that will enhance magnetic pickup use and much of what follows applies in one way or another to other pickup technologies as well. First midrange frequencies can be the arch-enemy of artificial (pickup-based) acoustic sound. Cut the mids as described above and enhance the bass and almost any pickup will improve. Strings with magnetics like Jim's don't have to be nickel electrics. However where adjustable pole pieces exist, (as in the Sunrise) you have to greatly lower the height of the E 1st string and even more so the B2nd. Each pickup is a little different and most other brands don't have adjustable poles. In these cases you only have your EQ to help you although some buffering of the two brightest strings can be accomplished by placing material over the area that is too hot. A thin piece of tin mounted with electrical tape can mitigate a too-hot pickup area. Also using lighter gauge E&B strings can help a great deal plus give you more flexibility for performance enhancing nuances as these light strings will bend more easily. The fact is that, only the cores of wound acoustic strings (bronze, phosphor) are sensed by a magnetic pickup. Wrapped acoustic string with thick cores, while perhaps not as playable will respond better. And finally keep in mind its the performance that really counts. Over time we will show you as many ways as possible to maximize the sonic impact on your audience, but your performance is always where the gold is. So for now, for-get the snobs and go-get the sound.
If you haven't noticed already, you are going to have to learn to read A LOT to take full advantage of this publication. The written word is the foundation of any civilization, so get used to it. It is the permanent record and is the next best thing to carving in stone - or wood.
---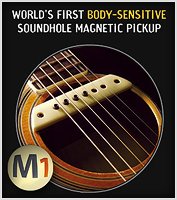 LR Baggs, at this winter's NAMM show, introduced what is certainly a revolutionary product that many will find to be the answer to their quest for a simple but effective method to amplify their acoustic guitars and still satisfy their "acoustic" ears. Similar to the Sunrise in ways such as adjustable pole pieces, the Baggs M-1 displays a new or at least extended trait. It senses the guitar's body vibration and tone far more than any other magnetic pickup. We are going to compare, in the next few days, this new pickup with the Sunrise (playing the same pieces on the same guitars) so you can see the differences between the two. Both the Sunrise and the Baggs M1 are easy to install (a pretty much plug and play situation), both have a little trouble with small soundholes which we will cover in a day or so as well. Several of our readers had requested that we show the Baggs in a bit more powerful light rather than simply fingerpicking. This first video does this. We wanted to get this preliminary video up ASAP as many were contemplating impending purchases.
The Baggs does truly sense the guitar body vibrations. In the video I tap on the pickup and the top so you can see it in action. With the Sunrise I did not show you this test but the Sunrise is basically silent when tapped on. Now this issue is a two edged sword. For those that use picks, the sensitivity of the Baggs makes it necessary to avoid contact with the pickup directly. With the Sunrise you can play all over it without noise. However the body sensing function of the Baggs does make for a surprisingly acoustic sound as you will hear in the videos below. There are a couple of other minor issues with the Baggs as concerns small hole installation but nothing we were not able to work around. Most small hole guitars are around 3.75". Any smaller than that and I think the Baggs may be difficult. the Sunrise will get down to 3.5" with some nimble fingers. We'll show you why in detail in a couple of days but basically it has to do with the fact that the Baggs's "ears" that grab the underside of the sound hole are mounted and must remain in a slot whereas the ears on the Sunrise are free floating. Many guitars today have larger sound holes of 4 to 4.25" (you metric people can multiply these numbers by 25.4 to get the mm if needed). For those folks with this size hole (in their guitar at least), this pickup is as easy as the Sunrise.
The pickup comes with a long chord (1/8" mini-phone unbalanced to 1/4" phono) as well as an internal, easily mounted strap jack assembly that is already wired. You need to have the standard strap jack hole in the tail block but many already do. Installation in the Taylor in this first video took less than two minutes. (The pickup itself has the jack for the mini-phone). Now, I already have a B-Band and mic in this Taylor guitar so I used the long chord coming out of the sound hole. I'll show you soon the other installation. Both the Sunrise and the Baggs are remarkably simple, extremely high quality devices for players who need to reach an audience. Further videos are coming that will show these side by side. I personally will use both as when fingerpicking, I like to be near the front of the sound hole for the most acoustic amplified sound. Whether using a UST, ST, or mag, the closer you get to the bridge the more artificial the sound. With large sound hole guitars this is not a problem as the Baggs is smaller and fits pretty far forward so the pick(s) striking the pickup is less of an issue. For my smaller holed guitars, like my 00-18V, the Sunrise allows me more forward motion with the right hand. Let us know what you think about the Baggs. Frankly we were blown away and if you are not fortunate enough to get a Sunrise of which only 1,000 per year are made, rest assured that Baggs has a much larger production run in mind. Again we love em both but it will be interesting to see what our readers think. Here's the preliminary video. It starts with some very soft fingerpicking (flesh only - yes I do that occasionally for recording), then some tapping and then the old flatpick comes out for a good dynamic test.
---
Also once again, remember that EQ and proper effects are vital to getting any acoustic pickup to sound more natural. A good case in point is the Schertler BlueStick ( www.schertler.com ) which we will look at next. This demo will be moved soon to Part 2 of the Guitar Pickups page that will cover UST's and other pickups that require semi to permanent installations. Howver we sho you this one now for reasons of comparison and context. Also there will appear above many more of a full range of videos on both the Sunrise and the Baggs M-1 as we spend more and more time with each one, but we wanted to get the Bluesstick and the Schertler Dyn-G recordings up so you have an idea of where we are going with this section and the next, especially on the subject of USTs (Under the
Saddle Transducers). The Dyn-G (not a UST) is pretty much in a class by itself as it is, while not alone in the soundboard transducer arena (STs or ASTs), the easiest and least invasive to apply. It also has exceptional fidelity and a price to match. The BlueStick, on the other hand, is more characteristic of other USTs. Martin and Gibson and a few smaller builders have been putting this pickup in some of their models as factory installs. The Martin JC16-WE we use in the following demos is just such a factory install.
The general consensus is that when done properly (good string balancing, and eq), this type of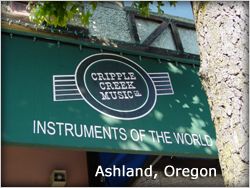 pickup serves the professional stage musician well. We agree. Now any UST will be at its worst in a recording situation but when amped properly, especially through a good preamp with effects, into a mixer, out to a good power amp and culminating in good quality PA speakers, the right UST can give your audience a very respectable and powerful acoustic experience, especially if you learn how to "ply" the pickup. Since we did not own the Martin JC16-WE that we used in the following BlueStick demos (which we note was generously provided to us by Cripple Creek Music ( www.cripplecreekmusic.com ), a fine high-end music store here in Ashland Oregon), there were some constraints to customizing the sound as well as optimizing the instrument's setup. However the acoustic properties, and potential for even better, should be apparent in the following clips. Our only issue with the BlueStick (an issue which we mention in the opening video) is that its installation requires the drilling of a hole in the center of the saddle slot of the guitar's bridge. Now all other USTs that we have seen have their lead wires on either end of the pickup.
The Schertler is unique as far as we know in that its lead to the preamp comes from the pickup's center. While this seems to have no effect on the unit's sound quality (Schertler describes this pickup as more of a microphone diaphragm than a transducer), it does require the presence of a slot centered hole that makes subsequent installs of other pickups more of a challenge. Specifically, you have to caulk or plug the old hole so that other design USTs won't lay over an empty space. The Schertler BlueStick has a volume control mounted in the sound hole, out of the way of your playing. This added feature is handy for changing volume when playing but we found the optimum sound was achieved at full volume on this control. And we should mention the fact that even though you can turn off the pickup's volume with this little volume wheel, you must still turn down your amp or mixer channel before removing the guitar cable. Below are various recordings of the Schertler so you can hear a variety of styles. These are all Window Media Video so you Mac folks will need the latest WMV Player, which can be downloaded by clicking here!
---
In the next series of videos we will take a comprehensive look at Schertler's DYN-G pickup as well as discuss the minor differences we found between their DYN-M and the DYN-G. We will also show you the results of blending this handy transducer with a magnetic such as the Sunrise and Baggs M-1 using the Rick Turner design Solstice Preamp. The overall sonic potential is groundbreaking to say the least. We will also show you the performance before feedback properties of the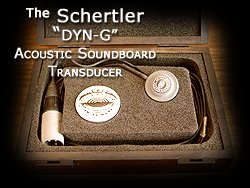 DYN-G itself. This is extremely important as the one limiting factor on most Soundboard Transducers, going all the way back to the Frapp days, is/was feedback. If you are going to spend nearly $350 on a DYN-Series pickup, you better be able to use it live on stage as you can get a very good studio condenser for that price if recording is your only goal. Now USTs are usually much more manageable in the feedback area and the DYN-G with its very acoustic sound will be put to the test in our mini-rehearsal hall with very large sound reinforcement. It will be interesting and very revealing! This pick up is, particularly with its ease of use, sensational at any price and when combined with a good magnetic like the Sunrise or Baggs M-1, the result is what many of us have been looking for - for a very long time.
However we will start with a look and listen at the Dyn-G pickup's performance and some installation tips. The first video is an introduction which you can access by clicking on the larger graphic at above right. This is a WMV file only so Mac folks will need the latest Windows Media Player plug in to view it. You can download this latest plugin for all systems by clicking here. In this introductory video we will discuss not only generalities and quality of the pickup itself but show you some other tools that we use in these and other video tests. Its a pretty long dissertation but we think you will find it interesting. Again, click the graphic at above right to view the intro video. A portion of the transcript of the video follows, after which a whole group of videos of various applications of, and performances with this sensational pickup, will be presented.
DYN-G Introduction
(Click the graphic immediately above right to see the video introduction)
We've been experimenting with Schertler's DYN Series Pickups for about nine months now. Why so long? Well, we are convinced, as we were within the first week of testing, that this particular line is, without exception, un-paralleled, as far as pickups go, in its ability to reproduce acoustic sound. It's as close to microphonic quality as any pickup we have heard. This is a performer's pickup with great gain before feedback and a very strong signal when applied properly. We'll show you what we mean in the videos below. And coupled with its absolutely non-invasive ease of use, it is unlike any other pickup we have seen, rivaling even magnetic

soundhole pickups for utility. Now the first stage of testing was spent in comprehensively accessing the differences between the G and M Series. Ostensibly, the G is for Guitar and the M pickup is for Mandolin.
Still, when reading the spec sheets of each model, one finds no difference in the two pickups other than the M series has a longer chord (16" longer to be specific). Otherwise they appear on paper to be identical. And if one were to get an M for guitar, there is little doubt, if used properly (and again that is the key), the user would find enormous satisfaction with the sound. However, we did find varying degrees of articulation differences between the two models, always finding the G to be a bit brighter with more presence for guitar work. Perhaps it is simply the shorter chord of the G series that allows for a bit brighter tone (less overall resistance). We are not sure why but in test after test we always preferred the G Series for guitar application. Likewise the M Series was consistently more satisfying for the higher frequencies already naturally present in mandolins. Nonetheless, however much the tonal properties may actually differ, either pickup is, without exception, an outstanding choice for amplifying acoustic instruments.
We will provide an MP3, which we created for Schertler, demonstrating the tonal differences we found between the G and M with the videos below, but one thing is certain, these pickups are in a class by themselves in their ability to produce powerful acoustic sound, with little feedback even using substantial sound reinforcement. Even at the rather steep price of $350 per pickup, they are a bargain, as they can be interchanged between instruments within a minute or so, even between songs during a performance.
The demos you are about to hear were, in part, recorded through the Rick Turner/Seymour Duncan DTAR Solstice Preamp. It is important to note here that the XLR connector that is standard on the DYN Series pickups does somewhat better through a preamp rather than directly into a mixer. It will do just fine directly into a mixer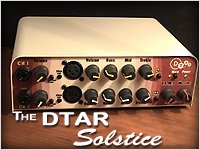 as the pickup certainly has plenty of signal to go straight into any mic level input and achieve sonic purity. However the tone controls of some mixers may not provide enough clean boost in the higher frequency ranges to optimize the striking sound potential of the DYN-G.
A brief word about the DTAR (an acronym for Duncan/Turner Acoustic Research) Solstice. This new unit is unique in several ways, most importantly in its ability to take 4 inputs and combine them into one 1/4" output. Now most blender boxes, like Fishman's excellent Pocket blender, are designed to take the signal from 2 pickups wired through a stereo endpin jack and split them so that individual EQ and volume adjustment are possible for each pickup. Typically situations like blending a UST with a Soundboard Transducer, magnetic pickup, or Internal mic. The Solstice is an even more powerful tool with its ability to connect up to four pickups or even mics, all with separate cables if necessary. This allows the player to connect, for instance, a Mag soundhole pickup with its own cable, and other pickups each with their own connectors going into separate inputs of the Solstice which are then combined to one or two outputs. This makes for an ideal tool for those of us who combine different pickups for testing on the fly and who don't mind several cables hanging out of the guitar. This two channel, 4 input unit will also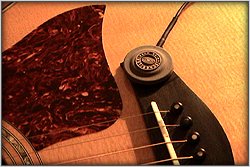 do what the Fishman and other blending units do - Specifically take a two pickup stereo signal from a single stereo endpin jack into one of the Solstice's 1/4" balanced inputs and split the signal, thus allowing you to adjust the EQ and levels of each pickup. In other words, this extremely low noise box does just about everything one could ask for in a pre or DI box, both summing and splitting and has 3 bands of dead quiet EQ that cover the very well thought out frequency ranges. We'll go into the DTAR Solstice, and the Fishman Unit as well, in much more detail later in the Performance Section of Fingerpick Magazine.
Now realistically, the Schertler DYN pickups will feedback sooner than most good magnetics like the Sunrise or Baggs M-1, both demonstrated above, but this tradeoff is minimal considering the extremely acoustic nature of the DYN pickup's sound. Not as good as a good microphone to be sure, but pretty close and by the time the sound is transmitted through performance speakers, with the aid of a little in the way of creative but simple EQ and effects, your audience will be hard pressed to tell the difference sonically. And if large venue power is needed, combining this pickup with the Sunrise or Baggs will give one nearly unlimited flexibility and glorious sound.
The following videos will demonstrate the sonic character of the DYN-G in various guitars and we'll start with some basic installations tips as well. You'll notice as the videos progress the sound gets progressively better and better and we will explain the slight enhancements we are using to achieve this progression. These kinds of sonic improvements will certainly be indicative of each user's experience as they find just the "right" spot for each instrument - a sometimes tedious operation but only required initially for each instrument. A small change in position can make a very large difference once the signal goes through mixing, processing, and sound reinforcement - especially for live performance. Pay particular attention to the sound of Parts 5 and later as these are truly remarkable recordings considering they are the sound produced by not a microphone, but an artificial PICKUP - one that has a very high gain to feedback ratio even with large and powerful sound equipment, is extremely easy to non-invasively apply, can use any mic cable for extension drop, and can be swapped between instruments faster than any other pickup we've seen.
As a matter of fact the last video (Part 7), shows just such a real time swap. It is interesting to say the least, and should convince even the most skeptical that this pickup will serve multiple duty on several instruments even during a live performance. The 1996 Taylor 714 Cedar is a wonderful guitar but that little Martin 00-18V is pretty hard to beat both in playability, compact size, and gorgeous, compelling tone. For a $1700 small body guitar, it has few peers at any price. Yes, Martin still makes great guitars and this one is a peach. Those in the market for small bodied guitars with punch and soul would be wise to take one of these for a spin before plunking down a whole lot more money on lesser known instruments that may be glorified in certain places. Jon Garon at My Favorite Guitars (www.myfavoriteguitars.com) got us this one from Martin. More to the point here though, the DYN-G accurately reproduced the tonal differences between the two instruments while projecting both in powerful beautiful timbres. We spent more time optimizing the Martin as we will soon with both the Taylor and the many other guitars we have here. And we have many, many other guitars from which to showcase all of these pickups. Just takes time. So enjoy the first round of the Schertler DYN-G. Used properly, it may just be the simple answer to the age old frustrations of acoustic amplification .
And we're just getting started with this pickup. Next, we'll take a look a combos of the DYN-G and Sunrise and LR Baggs M-1, played both through the Solstice and ultimately through the Digitech 2120 Artist. Now the recordings we have done above of these two magnetics have caused quite a stir by themselves. By far the most acoustic sounding mags we've ever seen and the recordings are the most acoustic sounding recordings of any magnetics we've heard. Well just wait til you hear them with the Schertler. The above mentioned mag soundhole recordings were optimized by fairly complex multiple effects (quad chorus, quad reverb, and quad delay) that allowed us to more accurately simulate how an acoustic guitar generates sound, especially relating to surface sound generating potentials and timings, spectrum placement, as well as phasing and attack delay. The Artist is no longer available nor is anything close to having its capabilities at this time although Larry Fishman's Aura is on the way to us and after speaking with him for several hours a few days ago, we think he is on to some real magic that deals precisely with the parameters we focused on successfully above with the Digitech unit. His new unit is NOT a modeler. It is more of a phase analyzer and multiple phase generator. Very interesting indeed and a hell of a lot of work has gone into it. It may do everything the Digitech box does (specifically for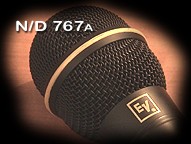 acoustic guitars) at 1/5 the price. However, it will be interesting to see if some of that wonderful acoustic tone attainable by rather high tech means can be added to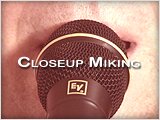 the above magnetics using simply the DYN-G. Hard to believe that it won't after hearing the DYN recordings above. And, as a matter of fact, we already know it does and we show you the amazing results below.
Remember, as we have mentioned in all of the pickup videos and tests, any and all narration during pickup testing is done with the ElectroVoice N/D 767 Dynamic Vocal mic. These kinds of performance mics are designed to be used up close, with your lips basically touching the mic. We use this mic type so that none of the actual acoustic sound of whichever guitar we are using bleeds into the carefully isolated pickup(s) sound. To put this in perspective, using a vocal mic close up like this, one would get VERY little if any acoustic guitar sound or any other ambient sound on stage - only the vocal. The mic is designed to accomplish precisely this and thus eliminates feedback and cross talk. The 767 is a very warm, rich mic and though you may hear a bit of popping from the "Ps", it truly does isolate the voice so that nothing infringes - thus making for an ideal situation where narration must be completely isolated from the actual pickup sound. In cases where no narration is necessary, the vocal mic is simply switched off.
Below begins our tests of various guitars (Taylor, Legend, Martin, and others) and various combinations of the Schertler DYN-G, LR Baggs M-1, and Jim Kaufman's Sunrise. This is good stuff for the live performance musician and demonstrates a lot of sonic flexibility now available to players of all levels who wish to amplify acoustics. The second video (Part 2) was played VERY softly to show the amazing ability of these pickups to reproduce even extremely delicate nuances of this instrument. You really can hear the difference a Cedar top makes even at these low levels. Pretty impressive to say the least. Sure, adding the Digitech 2120 Artist in the signal chain will make for even more power and flexibility but this first group of combo videos are recorded without its use, using more affordable, real world setups like the Solstice direct to mixer.
The most important point is that with each of the following guitars, you can hear the differences in the guitars themselves. No longer when amplifying do you have to sacrifice that special tone that encouraged you to purchase a certain instrument in the first place. Also important to note is that in Parts 3 & 4, we fully installed the Baggs M-1 with the supplied endpin jack and cable. Took two minutes. I dare say, given that you buy a few extra endpin jacks and cables from Baggs, one for each stage guitar, and have them already in place, you can simply swap the pickup and plug it in without so much as loosening a string. The Sunrise has kits that work in much the same way. *Note: Small sound holes (Less than 4") will need string loosening and really small ones, down to 3.5", may need string removal. The DYN-G will fit on anything instantly except a Pyramid bridge and in those cases, simply locate the pickup, as we did with the Legend (it has such a bridge) near the saddle in the place that sounds best to you or, more importantly, to your audience.
We mention in some of the videos above that this combination of pickups, while giving incredible power and acoustic reproduction, also is capable of accuracy to the degree that you really can hear the individual characteristic of each guitar or even makes of guitars. The differences in cedar top, spruce tops, mahogany, rosewood backs and sides and guitar size and weight are all evident if you listen closely, even in these highly compressed files. Each guitar likewise has certain characteristics particular to their maker and that is likewise reproduced. Now we set the Solstice preamp exactly the same for all three guitars. We wanted to see, among other things, how each pickup was affected by each guitar design. You have basically three rather different approaches to guitar making and styles here. The Martin is a very small bodied 00-18v and a very light guitar as well (3.5 pounds).
Now in each of these instruments, we did notice some tonal changes due to the installation of the pickups. For instance, even with the Legend which is a robustly made, highly roadworthy guitar. The sound of the M-1 by itself changed when we applied the DYN-G pickup. In other words, the presence of the small contact pickup on the soundboard, reduced the guitar top's ability to resonate ever so slightly and you could hear the difference from the M-1. Similarly, the Martin, being an extremely light instrument with light bracing and a fairly thin top, exhibited reduced clarity when the pickups were in place. Now these affectations to the sound of each instrument by the presence of these pickups are easily mitigated by a little EQ adjustment. The point here is that, for instance on the Martin again, the magnetic character of the Baggs M-1 (very little for a mag) slightly overshadowed the acoustic contribution of the Schertler DYN-G, resulting in a slightly less acoustic sound. Also, remember the original Baggs M-1 demo further up this page used the Digitech Artist Preamp, which has far more sophisticated EQ capabilities so that one can dial in, very precisely, those tones, especially in the upper frequencies, to obtain a very silvery and penetrating high end. All EQ's are not equal and even the 3 band Solstice has preset frequencies (graphic style) that it will enhance or attenuate. And though DTAR did a good job with frequency selection, the parametric design of the Digitech unit is far superior in its flexibility. It (the Digi) however, is also much more complicated to use.
So and still, there are always trade-offs. However judging from the sound these pickups produced in the videos above, they represent a whole new level of acoustic reproduction even with less diverse EQ and effects units. And by the way, we did the tests with the Sunrise mag as well but found only slight differences when combining with the Schertler. The Sunrise exhibited a bit more sweetness in the high frequency strings and a bit more magnetic "mud" or less acoustic "crunch" if you will, in the lower frequencies. All things considered both mags perform outstandingly with the Schertler DYN-G. And remember, we used the DYN-G in lieu of an expensive preamp like the Digitech Artist. You can't buy a unit like Digitech's Artist at this time and even though there are very good pres available, their shortcoming is that they don't incorporate the incredibly versatile effects and EQ that the Digitech Artist has/had. Frankly we are disappointed that Digitech chose to go the route of "modeling" and now gives less weight to multiple EQ's and truly extensively adjustable effects in its newer units. We hope that will change and as we mention above, though the Artist was designed for Electric Rock Guitars folks, its acoustic capabilities are incredible. Perhaps we can cajole Digitech to look at the acoustic preamp market as a separate entity and potentially, a highly profitable one as well. So since you can't buy the DigiArtist we chose to go with the Solstice instead for the six tests above.
And for those of your who are asking "So . . . where the hell is the Sunrise," in all these combo tests with the DYN-G - they follow bellow. Now we found it unnecessary to go into as much detail here with the Sunrise as it performs nearly identically with the Schertler DYN-G in combo. There are, as mentioned above differences in the two pickups but mostly to do with frequency smoothness, body sensing and acoustic crunch and these differences are most evident when these pickups are used alone. The addition of the Schertler levels everything out acoustically. It is important to note before watching the Sunrise videos below that the fact that the Sunrise does not appear to "sense" as much of guitars resonance is a two edged sword. Yes, we love the crunchy acoustic nature of the M-1 but for those that play with picks near the pickup, the more silent-when-touched Sunrise may be a better choice. Frankly I will always have both. Most important of all is the fact that both of these magnetics NEED A PREAMP. We hear comments from users to the effect that these pickups are thin sounding. Invariably these kinds of comments come from those who are using them improperly, i.e., without a preamp. And the better the pre, the better the sound. Both pickups are at the top of the food chain of Magnetic Sound Hole Technology. I only wish I had them many years ago when I was playing full time for a living. And with the addition of the DYN-G, I just might start again.
We will soon have new videos of both the Sunrise and the Baggs alone in various guitars - we've got lots of guitars - and we will use the same Digitech Artist pre we used in the ground breakingly acoustic video of the initial M-1 much further up the page. All in good time, as obviously the more you can do with one pickup using great effects and EQ, the better. However the Schertler DYN-G is SO good that its presence nearly precludes further investment other than a good preamp. We will also be taking a look at Baggs' PARA Acoustic DI, which is a fine unit as well, but takes only a single input (the Solstice, remember, takes up to four and we used two of them). It (the Baggs PARA) does however, have a much more sophisticated set of fine tuning adjustments for mid-range and notch that allow this unit to sound nearly as acoustic as the far more expensive Digitech Artist. In fact, having seen so many of these little boxes from various manufacturers (most with very limited EQ potentials), we let the PARA sit in its box for a couple of weeks before we really tried it out. We were flatly amazed that a $150 DI box can fine tune EQ to bring out so much acoustic flavor. This is truly a wonderful unit. Click on the video link below to hear a first attempt at recording through this unit to the mixer solely with the M-1. We were shooting for a kind of ramblin' bluesy tone and came pretty close again, considering how much this unit DOES NOT COST!! We will show you much more of the M-1/Para combo in the future as we get it dialed in optimally and we'll be looking at the PARA really up close in the Performance Sound Section later on as well. This unit, with the M-1, really does enable a gigging player to approach, at least, acoustic reality. Not as much as the Digitech, with which we recorded the original M-1 sample further UP the page, but darn close. With proper effects (again subtle as always) you can get even closer. So, for those of you who have been requesting more on the M-1, here it is - with a lot more to come soon!
I hope these tests continue to be instructive to those who need professional quality acoustic reproduction for their work. None of these items are cheap, the Baggs being the most cost-effective. And will they sound as good live as in the videos above? The answer is a qualified NO. actually, they will sound MUCH BETTER than the videos as long as you are willing to spend the money on a decent sound system. You know, a good PA especially with subwoofer capability. Guitar amps and mini-one-box-PAs are fine for the amateur or informal gigs but if an audience is gonna pay to see you, no matter how small the venue, it is my belief that they deserve to hear your playing (and singing - if you don't sing, with a few exceptions, you better keep your day job) in as best and robust a situation as you can afford and wide spectrum sound from two widely spaced quality speakers really can make a huge difference in both sound and the audience's perception of how seriously to take you as a performer. A great sound from your instrument can be quite compelling to an audience even if played simply.
A brief excursion into the lighter side is appropriate here, as it is important to remember that music and the content of this magazine is supposed to be, above all else, . . . FUN!! The following link is to an out-take of the Part 2 (of 6 - DYN-G/M-1) video a few paragraphs above. Even though I have mentioned, on more than one occasion, that I hate doing retakes or even multiple takes, rarely but occasionally they are necessary. Most of the time, what is said after a mistake is made, is completely unsuitable for publication on this web site. However, at times I have the presence of mind to defer to my rather copious arsenal of Japanese water skiing expletives. This little mp3 (click here) is one such example. Maybe I should have left it in with apologies to our Japanese readership.
Also it bears mentioning that we are playing some really nice guitars here but as you can see with the original Sunrise video way, way above, with a good pickup, a lot can be done with a very low cost ($200) guitar as well, as long as it has a great neck. Now the Legend D-112 we use in the M-1/PARA demo immediately above is a great professional quality and roadworthy drednaught that you can get for less than a grand. However just be careful and don't get too cheap if you are serious about your music, as the following MP3 illustrates. We'll just call it frustration. Click on it. We think you'll get a kick in the pants out of it. And speaking of "pants", try here as well.
And then of course, coming soon, the grand slam - where we pair the Baggs and Sunrise with not only the Schertler DYN-G but use the Digitech Artist as well. Now that should be a very enticing acoustic sonic stage oriented performance tour de force - indeed, and the videos will be ready soon. And of course don't forget the B-Band we've "properly" optimized that is as acoustic and powerful as any UST we have ever heard to be shown later when our test include pickups that need more skilled installations. All this and more coming soon to Fingerpick Magazine. In the meantime, enjoy and go play. Just GO play!!!
---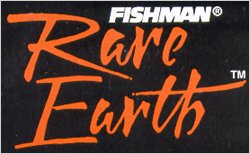 However, in the meantime, we couldn't resist a very preliminary look at Larry Fishman's Rare Earth Series of magnetic sound hole pickups. If it seems we are obsessed with these kinds of sound grabbers, we are! There is nothing more simple for the working guitar player/entertainer than a passive (no batteries) soundhole (no instrument alterations) pickup. We found that the Fishman series including the Rare Earth Humbucker (this one does have batteries and is an active pickup, but behaves more like a passive) shown in this first of many groups of Fishman videos we're going to show you, provided stunning results, much better than we had been led to believe by critics and much better than we have heard on stage. We messed with the whole bunch, including the NEO-D (low cost but surprisingly acoustic), the Single coil version of the Rare Earth Humbucker, as well as the Blender Series with added internal mic. We wanted to tease you a bit with the ever so simple to use passive Hummer, first directly into an Aphex 207 Tube pre/DI, then to EQs and mixer with only minor effects and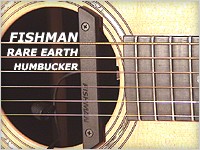 progressive EQ adjustment.
The second video is an important demonstration our readers have requested that shows the method and tools we use to enable us to narrate pickup demos without allowing the actual sound of the acoustic instrument to influence what you hear. The third video uses a fairly sophisticated 21 band EQ to demonstrate the frequency ranges that most often cause most all pickups to exhibit non acoustic artifacts. With mostly mids subtracted , and with little hassle this video BEGINS to show the capabilities of this pickup for acoustic tone. I should clarify that in the third video, EQ is used to demonstrate the FIRST STAGE of optimizing for acoustic sound by attenuating certain mid range frequencies. It sounds a little thin, which is often the case in the first step of reducing suspected midrange artifacting that causes artificial (electric) tone. These videos are by NO means the FINAL optimization and by the time we are finished, the acoustic power and tone should turn out to be absolutely remarkable. We'll show you those videos as they progress. So keep in mind that the third, fourth and fifth videos represents a progression towards ultimate sound, though still not the final product. We wanted to show you all of the steps towards tonal success, with various elements of signal chain choices as you will find that you'll have the same progressive improvements as you patiently optimize soundhole pickups for your particular and often unique signal chain.
We will ultimately show you the whole arsenal of Fishman pickups as well as the Baggs M-1, Sunrise and a new acoustic pickup from DiMarzio the DP139, all with final enhancements like EQ, Effects, and Preamps. To the point at hand, we were frankly blown away, as we were with the Baggs M-1 and Sunrise, at the potential of the Fishman pickup. It is not quite as acoustic sounding as the M-1 in its natural state, perhaps not as luxurious in tone as the Sunrise naturally either, but its extremely warm, pure and quiet signal allows one to adjust frequencies and effects so that the end result is an unqualified outstanding, even for the acoustic purist.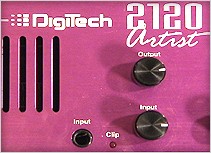 Before going further with the Fishman line and to further explore in context what the EQ 101 videos above represent, we first wanted to give you some comprehensive insight into the Digitech 2120 Artist that we will use ultimately in most all of the tests. We have received a ton of email about this unit and while this system is no longer available, the following videos should provide you with clues at the extensive manipulation of both EQ and Effects that can result in a much better acoustic tone from electronic sound generators like magnetic sound hole pickups. These same philosophies likewise can improve dramatically USTs. The videos should be viewed not as recommendations for the Artist but rather how one can use currently available equipment or combinations thereof to approach the depth and flexibility that the Digitech box provides. It really comes down to both multiple EQs that symbiotically interact, allowing the user to fine tune specific frequencies as well as their overtones and effects modules, especially choruses that allow much deeper editing than most current guitar processors. The ability you will see in the following videos to send chorused signals to several parts of the sound spectrum as well as to control when these signals arrive make effects like the Artist's Quad Chorus much more useful than the typical stereo chorus that has only depth and speed settings. The Delays in the unit are as well quite flexible in determining settings that enhance the acoustic experience, especially SMEAR. The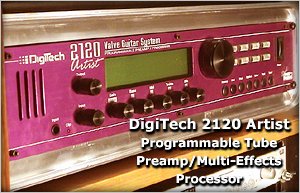 Reverbs are also robust and highly tweakable with extras like Diffusion, Time, Position, and Depth. The unit itself has literally hundreds of effects and hundreds of possible permutations and adjustments to these effects. There is currently only one stand-alone box we know of that approaches this flexibility. That is Rocktron's Prophesy, and is without exception one of, if not the finest guitar processor available today. While we don't currently have one, we have used it extensively and if we had to chose a replacement for the Artist among currently available designs, the Prophesy would get the call. It has multiple EQs but even it has fairly standard chorus options. However as shown in EQ 101 above, even deeply editable multiple EQs can do most of the work and the Prophesy has extremely a liquid, open sound character that can really enhance the acoustic nuance of magnetic sound hole pickups.
Now in the first video below we discuss the Tube Distortion Parameter as well as the Distortion module itself. One must realize that Tube Distortion is, though perhaps misleading to the acoustic musician, indeed accurate terminology. The fact is "Tube Warmth" IS a form of distortion and the Artist was designed more for the rock musician and electric guitars. It is important to note that for all acoustic pickups we bypass the Tube Gain. The frequencies that tube amps/preamps utilize to increase warmth (that fat sound) are precisely the ones that lead to artificial acoustic electric sound as well as quack from USTs. By only bypassing both the tube and the distortion section, rather than setting them to completely OFF, we can still utilize their EQs. Some tube sweetness still comes through but not enough to produce unmanageable mid range. Also remember the settings we show in both the EQ and Effects settings are to be done in real time while listening to your pickup. We did not do this in the video - we simply show you the possibilities. Again all of this is a demonstration of possibilities and are offered as help to determine what other units that you may find can offer. In other words perhaps what to look for. I think Digitech was as surprised as were we when we demonstrated to them how incredible their unit was for acoustic enhancement. Modeling, which is currently the rage so far has fallen short of producing enhanced acoustic sound without sounding highly artificial. So look at the two Digitech Artist Videos that follow and then we will return to further testing of the extensive Fishman line.
Fishman Series Now Continues
And now that you've seen some of the things we've talked about regarding the use of EQ and other effects to enhance the simulation of acoustic tone from magnetic pickups, its time to proceed with the rest of the Fishman Tests. The next few videos will demonstrate just how effective these procedures can be if engaged properly. Each video will show sound improvement although the first one certainly shows an amazingly acoustic tone for a magnetic pickup. We'll discuss as we go various parameters, devices and playing techniques that lead to great acoustic tone from the simplest of all devices, the magnetic soundhole pickup, for the performing acoustic musician who desires to have serious dynamic control over both the sound and the room. Video one reintroduces the Fishman Rare Earth Humbucker pickup with cursory descriptions of the equipment used and emphasizes the bottom end potential. Remember all of our videos are mixed and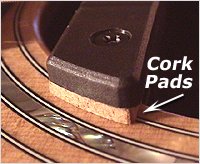 compressed with mono sound for bandwidth efficiency (except Parts 2 & 3 which we wanted you to hear as clearly as possible since we are no longer using the Digitech Artist 2120).
The Fourth video will address some final tweaking issues on the humbucker Rare Earth. Since this pickup does NOT have adjustable pole pieces, some may worry that string balance could be an issue. First off all (except the Fishman) of the sound hole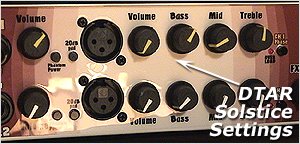 mags we'll demonstrate here, including the new DiMarzio DP139, came with pre-adjusted pole pieces. In each case we only slightly had to tweak the factory setting, usually reducing the B string height and increasing the E 6th. The Fishman evidently already has almost the same configuration built in and, though there are no pole pieces to adjust, we did a little creative adjustment of the cork pads that come on both top and bottom clamp ear surfaces of the pickup where it attaches to the soundhole edges. Simply put, as you can see in the photo at right above, we took the thinnest pads and put them on the soundboard top at the E 1st string side and the fatter pads at the E6th top location (shown). The pads have some adhesive but ours were pretty easy to peel away and swap them around. The result is that the pickup is now at a slight angle with respect to the plane of the top, canted so the pickup is slightly closer to the bass string than it is to the E1st. This small adjustment gave us the bass we like and accomplished getting the string balance we desired as you will hear.
Now at the end of this group, we will put up a hi-res MP3 mixed in stereo so you can hear the enhanced spatial quality that only a stereo recording can accurately demonstrate (although, again, clips 2&3 were compressed, as mentioned above, in higher resolution stereo so you could better hear the spatial character of the slight amount of chorus we added). Remember, the sound you are hearing is the pickup only, aided only by the Rick Turner/Seymour Duncan DTAR Solstice Pre and EQ, (see our exact and final DTAR EQ settings above left) and the TC Electronics M-300 Reverb and Chorus. No more Digitech Artist to spoil your ears. All in all, we feel we have accomplished (took some time and effort to be sure) our desire to find a less expensive and AVAILABLE solution to sound enhancement for magnetic pickups and we will go back and record the various pickups above with this new setup as soon as we finish the Fishman test (several picks left to test) as well as the DiMarzio. Until then, enjoy the sonic possibilities of the Fishman always remembering that the modern Magnetic Soundhole Pickup is the easiest, most cost effective, non-invasive solution with the highest gain before feedback for the working guitarist. You simply have to invest in enhancments to maximize their acoustic nature.
Now we want to look at the Humbucker version of the Rare Earth once more, this time focusing on the Bright Switch which is an important added feature to this particular pickup. All of the videos above used the bright position but for some, the more mellow "Normal" setting may be more appropriate. Actually in a recording situation (were I to use a pickup instead of a good mic or even a situation where I may want a bit more penetration into a dense mix and use both a good mic and a pickup) this more mellow setting may work better. For live performances, I have found the bright switch adds life and because the signal already contains most of the brightness from the source, your sound reinforcement needs little added hi EQ which accordingly reduces noises, especially hiss. The Second Video (Part 2 below) in the group is a comparative look at all four Fishman Magnetic pickups with the Humbucker first as a reference. As we wanted to show you a "baseline" difference between the signal from each of these pickups, we used the same EQ setting for all, that we used for the Humbucker. We did have to adjust volume as, for instance the Single Coil provides a much hotter signal, the Neo-D the least powerful, and the Blender just a bit milder than the Humbucker. Again, as mentioned in the video, all of these pickups, once optimized, sound great except for slight buzzing from the single coils of the Single Coil and the Neo-D. This buzz can be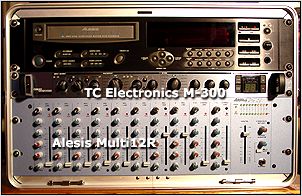 mitigated quite easily in live performance, like any other single coil instrument pickup, and extra grounding for a very quiet response in the studio is even easier. Pay particular attention to just how "Acoustic" the Rare Earth Blender model comes across. Feedback from the internal microphone which can, as with the buzzing of single coils, be worked around quite efficiently, resulting in still amazing volume before feedback performances.
Again all of the tests in these two videos were done using the DTAR Solstice Preamp and the basic EQ setting shown above. The acoustic nature of the recordings were enhanced by the creative and determinedly dogged use of EQ, which means we experimented a whole lot to get this quality of sound. The fact is as we have mentioned before, pickups like this when properly EQ'd and whose spatiality is enhanced by Reverb, Delay and Chorus in conservative amounts, sound even better through a preamp, mixer, power amp and high quality stereo speaker systems with horns (and most especially with a subwoofer element) than the recordings. These systems will shine depending on how willing you are to match the quality of your instrument and playing with the same commitment to sound reinforcement excellence. You don't have to go crazy but a excellent $200 multi-effects (effects loop driven) unit like the TC Electronics M-300, a good mixer like the Alesis Multi12R, a fairly powerful power amp like a Mackie 1400i, and good horn loaded speakers, should run no more than about $1600 or so and even adding the subwoofer to this systems should keep the price under $2,000. Not much to spend, considering we're talking about a PROFESSIONAL quality system for even pretty large venues, that will give you studio quality sound, and that you can carry and set up yourself (with a few trips to the van). Many folks spend a lot more than this on a single guitar but even if you don't, a sound system like this with good pickups and mics, will make for a sensational sound even with much less expensive guitars, as long, of course, as you can play and sing with some skilled alacrity. We'll cover sound system specifics in much more detail in the Performance section later on. For now, more Fishman magic.
---
Now that you've heard and seen what Fishman has to offer in the Magnetic Soundhole Pickup arena, it is time to show you Larry Fishman's latest brainstorm. The Fishman AURATM system. We're going to do several videos, concentrating on the sound for the most part. The system while technologically complex is pretty simple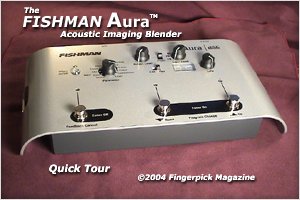 to use after a few definitive procedures so we will preface the next videos on this system with some basic information on the AURATM.
Sticking to basics, in the simplest of terms, the AURA is an acoustic sound enhancer. They call it the Acoustic Imaging Blender which is basically the same thing but the enhancement part is the most important element to keep in mind. This is seasoning and not the entire meal. It has the vapability of adding that acoustic crunch often lost with mag pickups and over shadowing the "quack" often produced by USTs. One must remember that even a good stage mic is still a REPRESENTATION of the actual sound of the source. In most cases good mic/effects/sound reinforcement can make an acoustic guitar sound even better, certainly more powerful and interesting, than the instrument without amplification. The same is true for vocals. Many are the fine singers who, without a good mic and good effects/sound reinforcement, would be in an entirely different business, especially if eating regularly was a priority. So the object of any device designed to electronically expand the reach of naturally produced sound, is to do so with as much authenticity as possible while attempting to make the sound even bigger than life.
The AURA has this capability as do most all of the devices, in varying degrees, you will see in this section. The difference is, the AURA performs its magic in a bit different way than most effects and certainly more effectively and honestly than any modelers we have seen. Specifically, it blends the wave form sound signals that are truly pre-recorded guitars/microphones/and pickups from studio environs, with the signal produced by your particular pickup. More to the point, as it blends these various elements, it accomplishes what some have been doing for years but without all the choruses and other spatial enhancers previously needed.
The system has two sections of EQ, one for the recorded "IMAGE" (not a model of a sound but the studio sound itself slightly phased between the recording pickup and high quality studio mics of various ilk.) and one for your pickup. This dual EQ function is vital for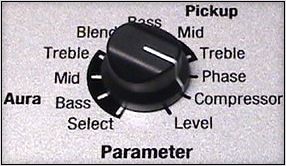 balancing real life with acoustic image, as the image is not a perfect stand alone replacement for a good stage mic. It is however just the thing needed to ENHANCE the more sterile sound of most pickups before enhancement, thus creating the increased impression of well . . . acousticness. Much detail on this system is present at www.fishmanaura.com, including many more sound images you can download - if you have a midi connection (a $40 USB to MIDI interface will do) to you computer. There is as well a feature that may prove to be really interesting whereby you can send Fishman sound files of YOUR guitar and mic/pickup combo so they can create a personalized image for you. Now we're not going to completely reproduce the manual and all of the work already undertaken by Fishman to explain this process. Its all there on their site. However, we think it is important to provide a sample real life road map for those seeking to understand how to get the most out of the unit in the shortest possible time.
The first thing one must do in using this unit, after adjusting your pick up input volume so it barely bumps the yellow indicator in the peak metering LED's, is to adjust the PHASE of the pickup. Now most people traditionally don't mess much with phase adjustments in effects units, preamps and the like, mainly because the default sound setting is usually the most pristine and evenly balanced and powerful. Even with other blenders one can cause a lot of problems with phase adjustments that they discover too late once they get on stage. In the AURA system correct use of the TWO separate phase adjustments (one a switch - up or down - the other a parameter setting 0 or 1) really does make a world of difference in your initial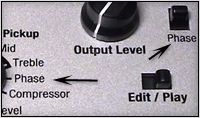 success with this unit. And basically what you need to adjust the phase for, is your pickup (select the edit setting, go to blend and rotate the data control fully to the P for "pickup only" position). Pick the fullest sound, the warmest, richest and most powerful, (though not always the most penetrating) from the 4 possible combinations of these two different phase adjustments. Use over the ear headphones for quickest success though testing the final phase with speakers is a must if performing and can provide some surprises from the apparent (ideal) headphone sound.
Next from the 16 possible images available (enter the edit mode - same switch and with the parameter selector at blend still but the data control rotated all the other way to the A for AURA setting, move to Select - again with the blend control set to full A for Aura , audition the various image sounds triggered by your pickup), select the one that has the LEAST artifacting - in other words the most realistic, tonally balanced sound. Be especially wary of too much B string enhancement as many of the presets tend to so exhibit, and likewise stay away from any particularly noisy patches. Each pickup you use will interpret these images in different ways and notwithstanding the recommendations in the manual, and regardless of what they say as to what kind of guitar and mic were used to create the "IMAGE", your ears are the best and final judge. Once the above is accomplished nearly everything else is straightforward. Once again, using both high

quality and sound isolating headphones along with speakers can make this first part of the process much more efficient.
Now one must simply adjust EQ for both pickups (rotate full to P for pickup position in blend parameter again then go to each EQ selection on the pickup side - bass, mid, treble) and sound images (rotate full to A for AURA position in blend parameter again then go to each EQ on the Aura side and do the same for each frequency). After this is satisfactory for each, return to blend and find a balance position between A and P (1-8) that gives you the projection and tone combination. There are many features to this unit like a tuner and others that again you will find in the manual or on the Fishman site linked above. For now we will share with you the basic setting we used for the recordings. One thing to note. We found the EQ of this unit, (especially noticeable when full Pickup position is selected) is not as powerful/robust as other EQ's like the Solstice. Clean yes but not nearly as much, for instance, low end gain or punch as the Solstice. Consequently we often ran the AURA pickup side EQ at full bass (12) and rolled off the mids less than in most EQ's used previously to get rid of electric tone. However, it is likewise important to note that most of our experiments so far have been with Mag pickups and the extra gain of active USTs have shown us a bit different personality. In fact the AURA was originally optimized for USTs less so for Mags and won't work well at all with mics of any kind or ASTs (too much resonance in the input signal). More on that later. Of course you can always add some low end punch at the mixer.
The following videos were basically set with phase parameters to switch down and data 1 with Compression OFF. Bass EQ was aggressive, mids were zeroed or attenuated to -5 or so, and highs were flat to +2 in some case -2. Our reasoning behind not being more specific than that is that we want each who experience this cutting edge unit to experiment and not assume there is any one setting collage that works well for all or even most. While not as much fun as playing with mind blowing effects units, listening and adjusting, especially with headphones, not only will entertain, but may likely give each user added insight into what factors create the impression of acoustic sound from non-acoustic signals. We spent many rewarding hours on the phone with Larry Fishman talking acoustic theory, especially concerning our successes with the multiple EQ's and the Quad chorus and delays of the Digitech Artist. We found that he basically embarked on the same path from a bit different perspective and his resulting unit is far more easily optimized than the Artist. Enjoy the next few videos. As usual, they will show improvement in dynamics over several sessions and on a variety of performance styles. They'll be posted as finished over the next week or so.
Now the next two videos will answer some questions I'm sure many will have as to two import parameters. The first video shows the same guitar with the same settings as part 2 above but with a capo on the 4th fret. Many pickups and systems seem to behave a bit differently as the capo goes up or when one plays higher on the neck. So we wanted to show you how, if at all, the current setup changes as one travels stage right neckwise. The second video deals with an issue we've already received a large number of emails regarding as to how this system sounds with a different guitar. The AURA manual and the Fishman website emphasize the recording of many different guitars with different mics and pickups to create their sound image files. While this is an important part of the process, one must not be dissuaded from using the Aura because of any perception that it won't work with just any guitar with a mag. In other words though many sound images are available on the site in addition to the 16 presets that come with the unit currently, you can get a hell of a good sound with the box (pedal) in its native form. This we wanted to emphasize to make sure the impression that this system is a tool only for those who have the right instrument does not limit its acceptance. The two guitars used are quite different tonally and in design, size and depth. However as you will see, even with exactly the same settings and pickup, each does extremely well with this system. Would it be even better with exact matches - perhaps, and perhaps even more so once you send to Fishman recordings of your instrument done according to Fishman's specs. Nonetheless this system seems to create lovely acoustic ambience on any guitar with a good mag pickup. You be the judge of course as you peruse the following two videos to see how each instrument performed and then hold on to your hats as we will next attempt the use of several DIFFERENT mag pickups, all with the same settings, to answer an even more pertinent question, "will any mag do as well as the Fishman Rare Earth Humbucker with the Aura?"
So now, as promised, lets look at what we consider the top four magnetic soundhole pickups around in use with the Fishman Aura system. First look at the videos below and see what you think. Then (if you can resist peeking ahead) read the text that follows the videos which we will put up tomorrow. Be suitably warned that the Aura system is massively irresistible and at about $300 street price, it can transform your often lifeless sounding pickups into something very special. And it will work with nearly any pickup with some qualifications you'll read below. As far as the sound in the videos, it is most impressive with all four pickups tested. And EASY!
OK - Now that you've heard the wonderful musicality of the Aura system, and our qualifications in the second video above, here are the facts as we see them. This system is cutting edge stuff that will work with nearly any pickup design as long as it is a UST or a Magnetic. In the second video we made you aware of the fact that completely passive pickups (no batteries/preamps) do not send out a hot enough signal to drive the Aura optimally. Having said that, for many players it is still all they will need. The lower the signal source, often the more likely unwanted "noise" will enter your signal chain. Surprisingly, the sound even when input and output volumes on the Aura are cranked full, is free of any discernable noise. That is rare indeed and speaks well of the quality of the design. Nonetheless you may still want more power from a good pre/eq. I also mention polarity in the video, which in Aura speak means the primary PHASE switch.
For those of you with USTs with endpin or onboard pres, you gonna love this unit. For the PASSIVE mag crowd that we have focused on for most of this first volume of pickup tests, your going to find, with a little help from a pre (hopefully with an EQ attached) that this system will breathe remarkable acoustic life into your sound. As great as the sound of the Solstice is and I think our tests display that most effectively, one must still use very creative EQ and effects to complete the sonic package. No longer using the Digitech Artist was at first painful and we spent a lot of time looking for a unit that would do all that the Artist would do. What Larry Fishman and his engineers have accomplished with the Aura is what we did with quad choruses and multiple delays and reverbs. He did it differently but much of the same spatial quality is added with the Fishman unit, that the Artist was capable of. In fact the Aura goes one step further by blending actual acoustic signal and when properly set up for a magnetic pickup, this can give one nearly the sound of an EXTERNALLY miked guitar matched with a Mag. In fact, and consequently, with the Aura, we don't even bother with the chorus effect from the M-300 any longer and simply run reverb and delay. This is an ideal setup (mag and mic) not only for stage work, but one that I use in the studio as well when I need an acoustic guitar to occupy its own space and not get lost in a dense mix. The issue of boosting the signal for us passive mag devotees is really simple to accomplish and many players already have various good preamps at their disposal.
Again, it is important to note that my preoccupation with Magnetic Soundhole pickups derives from their reliability and ease of use not to mention their potential gain before feedback power. I get great sounds from my mags. Most of you know that I also have a lot of respect for high end Takamine guitars for the same reason. They work on stage and are still the benchmark for power and simplicity for the working musician. In fact we'll do a quick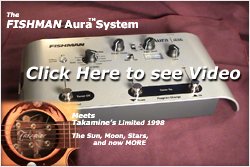 video in the next day or two of a couple of good TAKS through the Aura. It is an exceptional marriage. But for those that want a non-invasive way to share THEIR favorite guitar with audiences of all sizes, the realization that a mag pickup with almost no potential for feedback can sound, by the time it exits the speakers, surprisingly and enticingly acoustic in nature, borders on revolutionary. It is also important to note here that Fishman and company are not only aggressively proactive in product development, but are committed to refuting the idea of planned obsolescence, which means that their products of today will work with their upgraded products of tomorrow. We're gonna show you a quick look at a Takamine AE guitar using the Aura.
There will be a lot more about Takamine instruments in the Acoustic Guitar Section soon, but this first look at an old LTD 98 TAK, using the Fishman Aura direct to mixer is pretty interesting. I EQ'd the Sound Image part, of the overall sound, a little thin purposely as I was looking for a recording setting that would fit well in a mix, leaving room for a big 'ol stand up acoustic bass, vocals, strings and a Hammond B-3 organ (an unfinished experiment). Still the sound the Aura contributes to the instrument is very lifelike and acoustic. Click on the picture at right above to watch the video and we'll show you more TAK stuff later. By the way, the last video in the Guitar Basics Section "Slothead Crawl" was done unplugged, (so you can hear its true acoustic nature), on a $700 Tak EAN-30C, a wide neck (1 7/8) slothead design that is rare for Takamine. It is a thunderous instrument plugged in and a hell of a lot of fun to play either way. The video below is one more clip of the LTD 98 with the Fishman Aura, where we enhanced the sound with more aggressive AURA EQ as well as increased the amount of Sound Imaging mixed with the native Tak signal. We wanted to show you just how acoustic you can make the combination of this AE guitar and Imaging system sound, not only in a recording, but more importantly on stage with little chance of feedback even with a lot of sound reinforcement present. The strings on this guitar were quite well broken in - not quite dead, but definitiely lacking in sparkle, by the time this last recording was made. Even so, with the help of the AURA imaging, the instrument regained needed sparkle. Now this is a very powerful, economic, incredibly professional grade combo indeed, at reasonable prices for even beginning performers. In fact, at from about $700 to $1800 for a pro grade TAK, and $300 for the AURA system, one will find it difficult to beat this kind of live acoustic performance prowess at any price. In the living room, perhaps a Takamine is not for you (I like them anywhere) but for the person making a living with music or at least considering it, it is hard to find a better sounding amplified acoustic instrument - and the AURA truly seals the deal.
In passing, we have mentioned before (many times I'm sure) that the sound you hear with these compressed videos is mono and fairly low bandwidth to keep the overall file as efficient for download as possible while still providing adequate sound for the application. Occasionally we will provide higher resolution stereo audio mp3s so that you can hear nearly ALL of the sound quality that these sytems produce. To the right of the Part 2 video below you will find a link to such an MP3 of a Legend Guitar using the Fishman Humbucker with the Aura System. This is an early sound check with the system but I think it conveys what we have been saying about the Aura system quite well. Even more of an acoustic sound is produced using a Baggs M-1 which we will provide later but we wanted you to hear just much acoustic sound this system can output. Its labeled Part 3 MP3 below.
---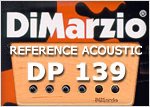 Until just recently, we were convinced that the three brands of magnetic Soundhole Pickups looked at on these pages were in a class by themselves. One of our readers a couple of months ago wrote to us about the new DiMarzio DP139. We went to the webwsite and the sound file demo we heard there intrigued us. Now DiMarzio, along with Duncan and Lace, are the primary suppliers and builders of fine pickups for electric guitars. Of course Gibson's line of pickups are historically wonderful as are Fender's, but most electric guitar players and even aforementioned many big name electric guitar builders, when they are looking for a custom sound, often will go with one of the three above. No doubt DiMarzio knows magnetic pickups but it is not necessarily the case that such knowledge would translate into the ability to build a great pickup suitable for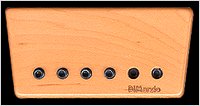 acoustic guitar amplification. Needless to say when we got the DP139 from DiMarzio we played it extensively. And we have found that this pickup, while not quite as acoustic as the Baggs M-1 and not quite as bright, punchy and dynamic as the Fishman and Sunrise offerings, is without doubt capable of creating a sound that is both breathtakingly beautiful and oh so unique. It has a softer presence. The pickup does sense some instrument body vibration as one can tell by merely tapping on the pickup. Like the Baggs it lets it presence known when picked upon as you can hear at the start of the first video when I inadvertently touched one of the poles with a metal fingerpick. However, the most striking thing about this pickup, in addition to its absolute ease of installation, is its incredible sonic sweetness. It comes to the ear gently and without artifact with a rich, warm, honey colored sound that we found irresistible. It doesn't impose its sound on the listener it simply offers it. Now the following videos should convey the sound of the DP 139 of which we speak , and for many kinds of music I enjoy, I find its soft nature both haunting and downright infectious. Don't take our word for it, check out the video and audio coming below and you'll see what we mean. Suffice it to say there are now FOUR giants in the woods.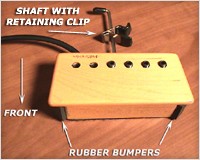 In the first video we attempt to show you both the sound of this pickup and its forgiving installation. For those who need more info about this pickup, the text below should help. Basically this pickup differs from the others mags on this page in that it has no clamps or screws to bind it to the soundhole. Thus it restricts the vibration (resonance) of the guitar's top (soundboard) considerably less. The result is more sweetness and less bark. The wood top is allowed to flex and the pickup senses some of this. Also the magnet material, especially in the B&E strings seems to be slightly less magnetic, giving the highs a sweeter less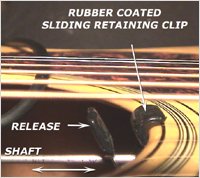 harsh presentation. And of course it fits smaller sound holes much easier than most other pickups in this class.
A shaft which comes separated in the package, screws into the rear end of the pickup providng adjustment for various size soundholes. Now let me say right here that this pickup, though it has a nice rich wood-like finish, is not particularly sleek. In fact it looks a lot like small wooden bar of soap. However, once one gets used to it looking at you out of the soundhole and then when you HEAR it, its, to some, "ugly duckling" panache fades to insignificance. Anyway the shaft holds the retaining clip, a pressure sensitive, rubber coated sliding fixture that clamps to the back of the soundhole. High grade, rubber pads "bumpers" address the front of the sound hole and their elasticity makes for great traction and an easy ride on the soundboard. As the force of the fit is transferred more in a lateral vector, there is no downward or restricting pressure on the instrument's top. In fact, we were surprised that even with the DP 139's relative large size, it reduced the overall acoustic volume of the guitar very little. Obviously, this is an advantage for those who wish to both mic and use a pickup simultaneously, even in a studio. Why in a studio you ask? Well . . . because the bass response of the pickup is so smooth and the acoustic nature of the instrument is so little affected by the pickups presence that this combination can provide BETTER results when used tastefully than even high end condensers alone. Plus the magnetic signal is a much more efficient "trigger" for effects that can add a lot of spatial quality to the guitar part of any recording. We love this hunk of wooden magic and I think you'll see why when you watch the videos and listen to the audios below. Each of the pickups demonstrated on this page have much to recommend them and each have characteristics that are unique. It would be hard to chose just one. For the sweet and mellow Jazz or bluesy player however, who remembers the tone of the old 30's archtops, the DP 139 is going to amaze. It will do great justice to a lot of other styles as well.. The first of several clips follow but please NOTE, that in our zeal over this pickup, we referred to it (in the first video only) in both dialogue and graphics as the "Reference Standard" - in fact, it is the "Reference Acoustic" although the more definitive, albeit incorrect name, is nonetheless, well deserved. The second clip (Part 2) is an MP3 in higher resolution stereo so you can hear more detail of the pickup's ambience.
And finally the third (Part 3) and last clip of the DiMarzio DP139 as do all of our clips, has a several purposes. First off there is much to be learned for some in all of these clips. They basically show the viewer not only playing techniques but should give the seeker a increasing good idea about chord progressions, lead styles and transposition. The use of the capo is no accident and we want our readers to benefit from seeing all of this without the rigor of a formal lesson plan. We used the DiMarzio to show two guitars at work not just because it sounds so great, but more importantly, as Part One of this section (Non-Invasive Acoustic Guitar Pickups) is nearly finished, we wanted to give you some insight into where we are heading. Each video performance has gotten a bit more complicated and has raised issues that we feel players need to address. We want the music to be fun but we also want to make it a challenge. Remember you can download any of these files by simply right clicking (Windows Users) on the graphic link and from the drop down menu select "Save Target As" That way you can view these clips at your leisure, capturing them to your computer for much faster recall as well as sharing them with friends as video files burned on CDs. All of the material is copyright protected but as long as these files are used as intended, (which means in ONLY non-commercial ways as our notice stipulates) we encourage our readers to use them frequently. There is one last thing to say about the third video which you should take note of. In the first video below, we did not use a capo for the lead parts of the performance. In the third, we did and if you pay attention you will see that a capo is not only useful for changing pitch of a guitar so you can sing in keys you are comfortable with, but importantly, you can simplify lead licks and other embellishments to your music whether you are recording solo or jamming with friends. The basic part of the tune in the third video is played in standard tuning in the key of C with no capo. The second part uses the capo on the 5th fret playing G position, which as you are now aware from our Guitar Basics page, puts you in the key of C as well. Even playing simply in these two different positions can give a duo an amazing variety and richness of sounds and when used in recording, can offer much needed and interesting nuance to what may otherwise be a two part guitar recording whose notes may step on each other. Enjoy the last DiMarzio video. Its from a work of mine from several years ago called Fat, Dumb and Happy and with the Holiday pig-fest now drawing to a close, I'm probably not alone in feeling just that way.
---
12 String Amplification Made Simple
We will have the rest of this series of 12 String videos up in the next day or so, but we have had so many requests for insight into amplifying 12 string acoustic guitars with magnet sound hole pick-ups, that we wanted to get this first video in front of our readers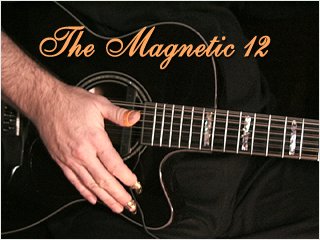 immediately. Basically the only way to use a Mag with a 12 String effectively is to use Nickel wound (electric) guitar strings for all wrapped strings. The gauge is up to you but be aware that many electric strings tend to have larger diameter cores per gauge and thus may play a little stiffer than acoustic strings. They consequently do not have quite the acoustic brilliance of bronze or phosphor wraps but they are not bad acoustically even in a studio environment. Thus using these strings should pose no problem for the 12 string artist whether on stage or when recording. No one likes to change the strings on a 12 string guitar frequently. However, more important to this discussion, and to the following videos, is the fact that the Nickels work. They allow the player to use even extremely light gauge wrapped strings which can more than compensate for the added stiffness and smaller gauge octave strings as well. We'll share with you, after all the videos are up, precisely the gauges of each string used, but be aware that this will vary depending on the particular application, guitar, and user.
They (electric guitar strings with mag sound hole pickups) also can provide the performer with an instrument of great dynamic range, easily flowing from the gentle sweetness a tastefully played 12 can offer, warping immediately to thunderous dynamics that will fill any hall and give no quarter to any other instrument on stage. They also allow the player even more creative use of really beautiful effects (especially nice for 12s) as these pickups are really efficient at grabbing sound from magnetic wrapped strings, and excel at triggering effects cleanly. Remember with Phosphor or Bronze acoustic strings, these pickups only sense the CORES of the wrapped strings, while they pick up all of the Nickel string formulation - the entire mass of the string and mass is king as far as magnetics go. Now it should come as no surprise that mag pickups, whether they have adjustable or individual pole pieces or not will simply not be able to pick up a non-magnetic wrapped string as well as a steel string when the strings are in the kind of close proximity found on 12 string pairs. What you wind up with is your octave strings overpower the sound of your acoustic sibling, making what can only be expressed as an annoying sounding instrument. The electromagnetically sensitive wrapped wires solve this dilemma quite handily with few negatives other than those mentioned above.
Enjoy these 12 string videos. We used the Fishman Rare Earth Blender pickup for this first one in order to start with what may be the ultimate (certainly among the simplest to use) 12 string mag combos. The Blender, as you may remember from the Fishman demos above, comes with a humbucking mag combined with an internal condenser mic attached. This pickup is one of our favorites because it does what many pickup/internal mic setups have trouble with and that is play damned loud with less feedback and is simple to install and use. It blends the two sources right at the pickup so no external signal blender is required. Ah, Simplicity!!! Oh, it will feedback if pressed, and for those that really need power, we will show you the Baggs M-1 with electric strings in the second video. However the sweetness and acoustic presence provided by the Rare Earth Blender is quite seductive in a 12 string. It all depends on how you use it. Now in the second Video, the Baggs M-1 brings much if not all of the acoustic nuance one might want from a 12 and with less chance of any feedback, especially in the low frequency ranges. We EQ'd the second video purposely a little heavy on the bottom end so you could see how well the Baggs tolerates extreme low end power, while keeping the sweetness when playing softly. Now below these two videos we will break down the various pickups tested as they pertain to 12 string amplification, again using Electric (nickel wound) strings. And by the way our precise string gauges were as follows from 1st to 12th: 11/11, 15/15, 22w/08, 30w/11, 40w/18w, 48w/26w. All Fender Nickels.
You should be reminded that before reading our final evaluation of the above pickups, as they pertain to 12 string amplification, we don't do negative reviews in this publication. As often stated, we find it counterproductive to attack those who have the courage to innovate. If we find a product that does not satisfy our requirements, we simply return it to the manufacturer with our comments, leaving it up to them to improve the product if they feel it in keeping with their marketing stategy. Its a good system and we have developed very strong relationships with manufacturers because of this. In the case of the specific area of 12 string amplification, even the pickups we have covered so far, that have highly impressed us, are not all equal. We are going to tell you why, again, with this very specific application in mind. The

magnetic pickups we have demonstrated on this page are all the creme of the crop. However we found that when electric strings are introduced (as well as other factors specific to the 12 string issue), that some did better than others. This should be construed as no reflection on their ability to do

what they are truly intended and designed to do, which is amplify acoustic guitars using acoustic strings. Keeping the foregoing in mind here is what we have learned.
Both the Baggs M-1 and the Fishman Blender (a humbucking mag paired with an internal condenser mic) as well as Fishman's Humbucker, excelled at this particular test. The Sunrise and the DiMarzio did not and we will explain why. With the DiMarzio DP 139, we found it simply did not like electric strings. Its tonal properties are so unique and beautifully bluesy that frankly, we could care less. For smaller bodied, short scale acoustic guitars, and acoustic guitar strings, its sound is absolutely wonderful. So much so, in fact that we will always use this pickup in exactly that way - and frequently at that. The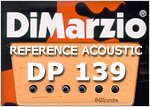 warmth and sensuality is overpowering. More below in the final analysis.
The Sunrise, on the other hand, needs a VERY good preamp to fully project its sonic qualities and we have found that, using even the high quality yet affordable DTAR Solstice, the Sunrise retained a bit of an electric sound no matter how aggressive the EQ and effects. In our original tests with the Sunrise, we used the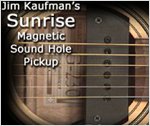 Digitech Artist. Its prowess you are no doubt sick of hearing about, but the fact is, that preamp brings the Sunrise to life unlike any other pre we have tested and when we did use the Artist with the 12 string, mag set up described, it sounded wonderful. One caveat to the Sunrise we should mention is that the preamps Sunrise makes specifically for their pickups really makes a difference. While we have not had one to record with, I have used them before and they make a tremendous difference as they are precisely matched to the pickup's character. Both the SB-1 & 2 really do begin to help the pickup approach the sonic character possible we found using the Digitech unit. Other high end preamps may do as well but since we abandoned the Digitech unit for our pickup tests (only) because it is no longer available to our readers, we could not get the Sunrise to match the acoustic nature of either the Baggs M-1 nor the Fishman units, especially using electric strings on a 12 string guitar. The balance was perfect but the sound retained electric artifacting. The fact is, I do own a Digitech Artist and will continue to use it with Kaufman's Sunrise and get amazing results. Just not for this particular 12 string application test. More on the Sunrise in the final analysis below as well.
So there you have it - simple and without pain or vitriol. The Baggs M-1 and both Fishman Rare Earths stood out dramatically as source pickups for these tests. Perhaps the biggest surprise of all was the Fishman Humbucker which, unlike the Blender, has no condenser mic partner and advertises no body sensing. Yet, it still gave a very lifelike sound to this setup due in no small part to the Bright switch this pickups enjoys. Now with all of these pickups, using Fishman's AURA system would have made for even more remarkable results but we wanted to keep things as simple as possible with a minimum of boxes in the chain. So what you heard in the above 12 string tests were the guitar and pickup through the Solstice directly into the mixer with some chorus and reverb (take it easy on reverb with 12s) then direct to recorder. Bottom line is that for all to hear and see, amplifying an acoustic 12 string with the right magnetic soundhole pickup is not only possible

but highly effective - perhaps even the MOST effective way, but don't forget the electric nickel strings. They were the most important element of the test. And don't be afraid to be very creative with effects and EQ.
Now we also tested the Schertler DYN-G (reviewed above and pictured at right) with the 12 and found that it was effective as a secondary pickup when combined with a mag. However with the DYN series you don't need electric strings if it is the sole source pickup and with electric strings and mag we found the Schertler to suffer somewhat from the overall reduced acoustic volume of the guitar. Were I to use the DYN-G for a 12, it would be placed on the bridge (not the soundboard) and I would expect some gain in acoustic realism with a mag system. However the added bottom end generated by the magnetic pickup through sound reinforcement in a down tuned 12 could increase the DYN-G's overall feedback potential. It works well with 6 strings and mags as we have shown above, but with a 12, a mag, lower tuning, and electric strings, it may not be at its best. Frankly it sounds awfully good alone with a standard acoustically strung 12, so for most small to medium sized venues, the Schertler may be all one needs. Pricey but very capable. However it won't have the gain before feedback power of these mags and that, while retaining as much acoustic intergrity as possible, is predominantly what we were testing.
---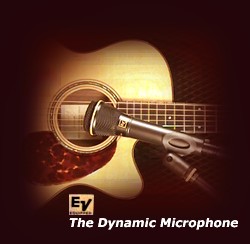 As this section of Fingerpick Magazine comes to a close (at least Part One - Non Invasive Pickups), there remains a bit of unfinished business. Actually there are three issues we need to address. First of which, though we have mentioned the use of microphones in several places above, it is time to get real specific. There are those that wind up on certain guitar oriented forums making statements like "never use a dynamic microphone, a condenser is better, even for performance." To be blunt, (and you will find that we can be quite so, when faced with the kind of opinionated, less than knowledgeable drivel, one finds on many of these forums), the statement has no real world credibility whatsoever. In fact dynamic mics have provided great performances for acoustic guitar for many decades and are still used by many under certain conditions even in top studios. I am frankly surprised they are not used even more today especially on stage. A Great dynamic (NOT the 3 for $10 type you get with a cheap sound system package or a $49 low end Shure and the like) will rival even some seriously expensive condensers - even in the studio, for recording acoustic guitars. Their sound (especially in brands like Electro Voice which we will show you in a moment) gives the acoustic guitar a real gentle, yet powerful presence, warmth and sweetness that even good condensers sometimes can't give. Technically, one can think of a condenser as more electromagnetic in nature whereas the dynamic mic as more electromechanical. Condensers need a power supply, dynamics don't. This is a drastic oversimplification as both designs employ most of the same elements, but generally condensers are more sensitive, usually have wider, more easily reached frequency ranges, are less rugged with much less massive diaphragms, and except for a very few models and with very few exceptions, are impossibly prone to feedback for live applications. Both dynamic and condenser mikes range sonically from the very poor to the very wonderful indeed. To compare condensers to dynamic mics without design (especially polar patterns, directionality, noise, and off axis rejection), brand, and cost specifics, is simply specious.
Now think of all the acoustic guitar parts of commercially viable recordings you have heard over the years. Mostly the acoustic is relegated to a rhythm pattern, scratching along alone behind all of the rest of the instruments. Occasionally an intro will be done on an acoustic that is full and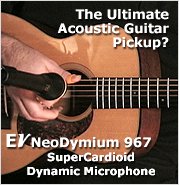 interesting but once the other instruments show up, often the acoustic, again, nearly disappears as a tonal component within the mix. Now I'm not talking about the highly limited sales category of acoustic recordings of solo guitar, even by great players. We are emphasizing real world recordings of projects that actually receive major distribution yet use acoustic guitars. Great recording can be done with good condensers but on stage there are only a few, like the Shure Beta 87A (which are pretty pricey, need phantom power), that are dynamically designed (tight uni-directional, supercardioid pattern) for up close stage vocals and can offer gain before feedback that is useful on any stage worth playing - especially if it is for your eatin' money. condensers suitable to this task are exceedingly rare. Conversely, in the world of dynamic mics, you have a tried and true history of performance and a lot of possibilities. That is what this Pickups Section is about for the most part - stage use and flexibility.
The ElectroVoice line of N/Dym dynamic mics has, since we found our first one in the mid 80s, gained a reputation among many, as being absolutely the sweetest sounding dynamic microphone available. Shure's new line of Beta series, by using Neodymium magnets (like the EV has been using for many years) is getting closer, but still nothing we have heard begins to exhibit the condenser like sweetness and sensitivity, (not to mention the highest gain before feedback of any dynamic stage mic), of the ElectroVoice. Even for recordings, we have found that the use of these mics is a sonic and functional pleasure, and we will show you why. The following videos were done using the EV N/D 767 that we consistently used for narration in this section, and the new N/D 967 Vocal Concert mic for guitar. Now here is where things begin to deviate from accepted philosophy even by the manufacturer of this line. Though the name of the guitar mic we used is referred to by the category of a "Concert Vocal" mic, we have found over the years that vocal mics do a lot better job with both close miking and with fuller sweeter sound on stage. They also reproduce much more vividly in the studio. Though the EV line of instrument mics, just like Shure's SM57, is thought to be generally what players need for instruments, we have found over many of years of use, that vocal mics simply do better on stage with "most" acoustic guitars. Instrument mics work great for drums or guitar amp cabinets but to get all of the nuance from an acoustic guitar without feedback, nothing beats a great vocal mic. I can't begin to tell you how many well miked and great sounding concerts, over many decades, I have seen employ this strategy. From Simon and Garfunkle, and James Taylor shows of the 60s and 70s to some of Clapton's acoustic video concerts, all used vocal mics like the SM58 for both guitar and voice. Again the vocal mic is designed to be used very close to the source. To turn up a dynamic mic for distant (6" or more) miking of a relatively quiet source is inviting feedback. However with the mic closer to the instrument's soundhole, feedback is rare no matter how dynamically hot the performance. And moving away and then closer to the mic, by small increments, provides huge benefits to the highs and lows that contrast dynamic performances from boring ones.
The so called "Proximity Effect" is a great tool a player using mics needs to learn to use for really dramatic live performances for both guitar and vocals. for example, Hoyt Axton and the Nitty Gritty Dirt Band (specifically Jim Ibbitson) were/are masters of the technique. Hoyt's solo dynamics on "God Damn the Pusher Man" was legend and the Dirt Band, who played REALLY loud, could still not drown out Jimmy's acoustically miked guitar licks. We realize all of this flies differently in the face of much of what you may have heard as recommendations from various manufacturer's and other sources and unfortunately there are not as many players today who are using mics for their instruments on stage. Consequently the acoustic guitar sound that most audiences are now used to, is not what it once was. We understand the need for movement on stage as that seems to be a signature for many newer performers, but there are still plenty of players we see that sit or stand fairly motionless in front of a vocal mic, at least when they are singing. If you have gone wireless, and are using headset mics and running amok like Garth Brooks, then the stationary mic is not for you. For everyone else, the acoustic warmth and utility of a great dynamic mic like the EV should not be overlooked. We've put together a quick three videos showing you the sonic sweetness of the EV 967 as a recording tool and rather than take our word for the performance power of this mic, encourage you to take a look at these mics for yourself. After the videos we will cover the second and third parts which involve the differences in design of dynamics and condensers as well as other issues like price, placement, and usage regarding these tools. And we will finish with some mp3s of various mic designs done in such a way as you can hear specifically of what we speak. The last of the three videos below uses a mag pickup with the mic. We use the Fishman Humbucker here, but both the Baggs M-1 and the DiMarzio DP 139 will both provide you, as does the Fishman, with even more bottom end and clarity and they all restrict the acoustic sound of the instrument very little. Its a formidable combination.
---
What follows is a carefully detailed look at various mic designs in order to reinforce what we've been saying about their use - and all dynamic vocal mics in general. We don't want to get too technical and the readers should be warned the "specs" one finds on mics often do not tell the whole story. This we will discuss as well. First though, the mp3s immediately below are individual recordings made using identical settings - straight to Aphex 207 Tube preamp then direct to mixer. EQ all around was flat and the distance to soundhole was identical to the videos above. Specifically 3.5" from the front of the soundhole, pointed directly at it. This positioning is the most effective for maximum gain before feedback in live performance situations as well as for rejecting ambient noise that may interfere with recording in a less that "perfect" sound insulated environment. Listen (by clicking on each graphic) to the videos first, then read the paragraphs below. There you will find ultimately a Wave Signature graphic to help explain what you have heard. By clicking on the Wave Signature Graphic itself, you can hear all 5 clips in sequence. But listen first to the files to see how each mic differs in its sonic reproduction. The differences are slight but are nonetheless telling as they relate to the specifications associated with each mic. We will discuss these specifics directly below the mic graphics.
---
In order to make the comparison of these mic's relative sound easier, we took all five sound files and stuck them together as one. We also wanted to show you the wave signature so you see a graphic representation of what you are hearing, including the overall volume of the mic as well as any peaks within certain frequencies. Click on the screen capture of the wave diagram above to hear this final continuous mp3 and then minimize the Windows Media Player window so you can hear the sound and see the graphic simultaneously. It should be enlightening. Please remember there are potentially a lot of good mics available by every manufacturer mentioned so far and others as well. You usually get what you pay for in dynamic mics - a lot more so than with condensers. And most retailers will not take returns on a mic unless it is defective (Its a hygiene thing - like harmonicas). So when shopping mic, use the above demonstrations to draw conclusions as to the specific capabilities you desire. As stated before, specs can be misleading as to "quality" of sound but rarely do they fool one as to basic capability and application. For acoustic guitar amplification live, a supercardioid pattern is almost always preferable to the wider field gathering of a cardioid. Reduced frequency range is another clue to eliminating feedback but this can depend on again the "quality" of the overall design and how much this frequency reduction effects the tone especially for off or cheap brands. Higher impedance will reject more noise but needs good preamps to boost them better. Its kinda like long throw compared to short throw faders on a console or other outboard unit. The longer the throw the more delicately and accurately one can tweak. The same with mics, as lower impedance mics get sonically hot - perhaps too hot - quicker. Finally, remember a good dynamic mic will last, even with fairly rough handling, a very long time. This is especially true with Shure and EV and though having less experience with AT and AKG, the few I have used seemed quite hearty. So really extrapolate what you need now and will need later. The costs of even top dynamic mikes is no more than most pickups systems so having a few of varied design and character may be your solution. And by all means do check out EV line anyway you can. They really are sonic gold , especially the EV 967 which will just about do it all.
With this demo we will leave Part 1 of the Guitar Pickups Section (non-invasive) and move on to Part 2 which will include USTs, AST (SBTs) and other amplification strategies. Before we do, we provide a general overview of the strengths and minor weaknesses of the Magnetic Sound Hole Pickups we have looked at that made the cut. The Schertler DYN-G, as there is still nothing quite like it - has spoken for itself eloquently.
Here's the application specific breakdown as we see it - they are all great pickups and will perform exceptionally well but there are some differences:

The Fishman line of pickups are reliable, cost effective and sonically pure. Most especially in the Humbucker and dual pickup Blender (whose internal mic is surprising feedback resistant, for what it is). They are available nearly everywhere and have proven themselves for many years. The sounds we got from them are exceptional but required, as with all artificial sound generators, both creative EQ and the savvy use of subtle effects. (Frankly the Blender duo, though a little expensive for some at $300, needs very little, especially for smaller venues, as the balance between the mag and mic are exceptionally acoustic sounding and easy to achieve with minimal EQ and effects). Given you are willing to invest in some outboard equipment and some time, the sonic purity of the Fishman mags and the fact that they (being active pickups, with a power source) have a bit hotter signal to start with, have advantages for overall signal gain before noise. They also easily fit small sound holes and work well with all styles of guitars as long as they HAVE a sound hole. Now don't kid yourself, all of these pickups sound better in direct proportion to the use of a good preamp. Enter Fishman's AURA system into the mix, with its open-ended design philosophy, which ensures what is already a great tool, will continue to evolve and improve performance for original unit owners,. One would be wise to invest in the Fishman future as part of their stage and studio tool kit.

The LR Baggs M-1 was, without a doubt, the most acoustic sounding unit right out of the box. It is extremely well balanced and predictable with the one caveat that it will transmit noise from being struck by a pick. However, even I, using thumb and fingerpicks, quickly was able to adjust to this, as I am sure anyone should be able to do. The sonic rewards are certainly worth the effort. Its still a mag and needs the same attention to EQ and effects for ultimate pleasure and being passive, needs even more - a good preamp. The PARA DI from Baggs is obviously a perfectly nice fit but any GOOD pre will do. The pickup fits into small sound holes with some creative manipulation and like the Fishman, comes wired for extremely simple, permanent user installation. (Except, of course for drilling out the end pin hole which I would have done by a pro). I would always have this pickup as well, for studio as well as stage, as its sound is acoustic enough, even without a whole lot of fuss, to please most acoustic oriented audiences. Remember most audiences have been conditioned to hearing poorly EQ'd USTs that sound like rubber bands. Any performance instrument with a soundhole will benefit. Like Fishman, Baggs has been around the block and continues to produce products that are accepted by professionals world wide and both companies have an immediate and efficient design stategy model that allows them to quickly incorporate innovation. With their new active version just being released, this pickup, with the added gain, and again, the creative use of EQ and effects, really will leave little or nothing to be desired for even the most discriminating acoustician.

The DiMarzio DP 139 was the biggest surprise of the group. Known mostly for electric guitar pickups, they broke the mold on this one. It is so sensual in short scale, small bodied instruments, or any smaller bodied instrument for that matter, that we and I were really drawn to it. It is softer, more sultry, than any pick up we have seen. I would not use it for blue grass or probably not even for more aggressive modern styles. But for blues, jazz, and many alternative styles, it is spooky sexy. Yes it needs the EQ, effects and preamps, but even without them it has a fascinating tone. For instance in a small club where you may be using a mic, or the audience is close enough that they can hear the actual sound of your acoustic guitar without any amplification, the addition of the pickup should get you laid every night. Especially if your voice matches the smoky sweetness the DP 139 can produce. Again, like the others above I would NOT be without one for both live and studio. You heard the demos above - need I say more?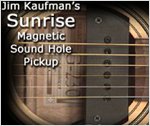 The first mag we tested was the Sunrise. It was such a dramatic improvement over the old Bill Lawrence spring-clip-in-the-hole or the old standard DeArmounds that were as interesting as sources of electrocution in less than grounded power situations as they were buzzy and fun (I still liked them), that we were incredibly gratified at the Sunrise's pure sonic capability. As mention before, however we were a bit spoiled, as we embarked on testing this pickup with the Digitech 2120 Artist. We were able to get incredible life out of this pickup with that unit and will continue to do so. I would suggest for the potential Sunrise buyer to get one of Kaufman's preamps as they are matched to this pickup like incest. However with very good preamps and sophisticated EQ and effects, the potential is there for everyone. The pickup is respected world wide by many top performers. That does not mean that they always get a perfect sound as I am sure you have noticed from listening to many top acts using any of the pickups covered here. I guess a lot has to do with the habitual use of contract sound among heavily traveled players of note. Still I think that, in each case, a little personal gear that could be carried by each performer and used as an interface for the big sound stuff would improve greatly the situation. The Sunrise is the most massive of the pickups and deadens the sound board more than the others. Its pole composition appears to be ceramic ferrite, using none of the more modern rare earth composites like Neodymium or Samarium with either ferrite or cobalt components to reduce weight and extend dynamics. But its over built design speaks well for its longevity (I know folks who've used the exact same Sunrise pickup for 20 years and its still going strong) and this mass IS capable of producing an extremely rich robust signal. This should make it very easy, given the above parameters, to consistently perform as expected. With the Artist to help me, I love this thing in dreds and jumbos, especially if I know I am going to get a bit crazy with it.
There you have it. If the above sounds a bit non-committal, it is not. The fact is, all of these pickups stand out in our opinion as not only the best of the best in magnetic soundhole technology, but as perhaps the very best strategy for amplifying acoustic guitars both easily and forcefully. They are all dead silent partners. The mag pickup has come a long way and with a little creative sculpting, these devices can bridge the gap between the acoustic player and the audience in ways never before possible. Yes, in a perfect world of stationary performance, we love microphones, but using pickups of this quality along with microphones as described in the foregoing mic section, there really is little left to be desired - other than more complete one-box-design preamps, effects and EQ solutions. I suspect these are coming soon, in fact I happen to know they are. Now its time to go to work on the performance. Your audience should certainly be able to hear you.
Experiment - it is the key to progress - in any field. Don't forget that there are a lot of things you can do to improve the sound of existing equipment while always keeping things as simple as possible. Whether it is a mic or a pickup, even the best players do not always get as good a sound as they certainly should, especially when we know for certain, and I think have shown, that much better sound is possible.
Now on to part 2 - Other Pickup Designs. And it is important to acknowledge the obvious fact that we have many other sections of this publications to fill as well. We hope you remain as excited as we are, when all is said and done, with the potential of this form of communication. This magazine will never be a finished product. It will evolve as music does and as our readership is best served. Until next time we hope you continue to enjoy the content of this publication and we wish to thank our readers for the copious amount of email we receive. Knowledge is a two way proposition and your thoughts are extremely important to us all. Enjoy - Doug